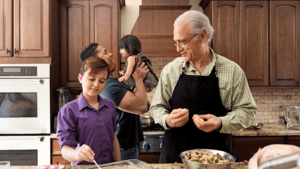 At Senior Resource Center Inc., we hold immense respect and admiration for all generations of fathers. We have cherished their wisdom, treasured their stories, and benefited from their guidance. As Father's Day approaches, we believe that the most precious gift we can offer our dads is our time— to create lasting memories, to express our gratitude, and to demonstrate our love. Below are 3 ways you can make this Father's Day memorable for Dad. 
1) Share a meal together:
There is something inherently special about eating with loved ones, especially when it comes to recreating the cherished tradition of Sunday dinners. Consider preparing a home-cooked meal for your dad, and perhaps reminisce about the Sunday dinners of his era. For the older generation who have experienced the magic of these gatherings, engaging in conversations about those cherished memories can be a beautiful way to honor their heritage.
2) Create and share a collage or scrapbook of memories:
Gather photographs, mementos, and keepsakes that hold significant meaning in your dad's life. Compile them into a heartfelt collage or scrapbook, capturing the moments that have shaped his journey as a father. Presenting him with this thoughtful gift will not only evoke nostalgia but also serve as a testament to the love and appreciation you hold for him.
3) Write Dad a letter:
Take the opportunity to express your deepest gratitude and share what you have learned from your dad over the years. Write a heartfelt letter highlighting the invaluable lessons, support, and impact he has had on your life. This personal and heartfelt gesture will touch your dad's heart and provide him with a cherished keepsake that he can revisit whenever.